Where did all the houses go? Below, a graphic shows Santa Clarita's inventory over the last 3 years for the month of February.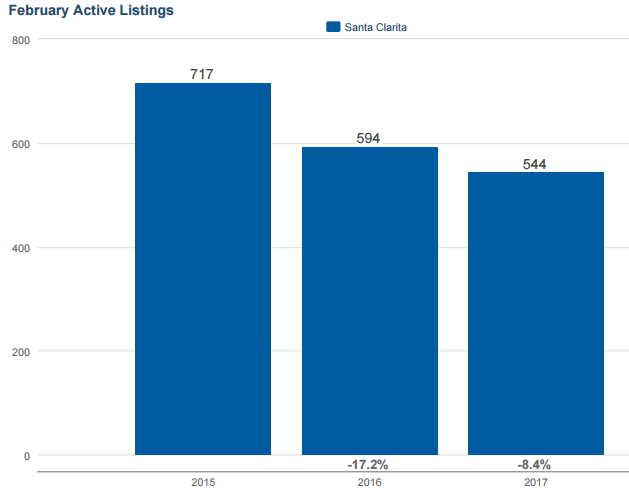 Nationally, last month's existing home sales did quite well, hitting a rate of 5.69 million/year, the best level since 2007. Oddly, this strength came despite inventory of only 1.69 million units. That's just 3.6 months of supply at the current sales pace, the lowest level seen this century! In addition, inventory has fallen year-over-year for 20 straight months. That creates a situation where the median-priced home is up a whopping 7.1% from last January. Please, more home building!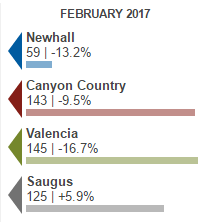 Valencia has been hit the hardest of the 4 Santa Clarita cities, with a whopping 16.7% drop in homes in just a year. If you ask home owners why they are hiding, and not selling, they'll tell you:
"Yes, I'd like to sell, but then what? Where will I go? I have to live somewhere too and prices for what I want have gone up for me too, as a buyer."
So the seller sits on the sidelines, as well. Those that do list their homes are seeing multiple offers, at or above list price. These sellers are cashing in on the tight market because they have an "exit strategy." They are doing so well, financially, that they can actually move up. We just need that prosperity to filter all the way down to the first-time buyers.
Inventory for starter homes is even tougher in the Santa Clarita valley. A 3 bedroom 2 bath home is the industry standard "starter home"- At least for now. (For many millennials, a 2/2 condo is becoming more of the norm, but that's another story).
Look at the inventory for starter homes over the last 3 years in Santa Clarita:
2015 52 listings
2016 50 listings
2017 41 listings
Naturally, for single family homes in Santa Clarita, these declines lead to one thing price-wise: