I'll let the cat out of the bag in the very next sentence, Reasons 1,2 and 3 are all the same: inventory, inventory and inventory.
To say this is an issue of simple supply and demand tells part of the story. The REASONS why supply is low while demand remains high is more interesting to many. Nationwide, there are housing markets that have a 5 or 6 month supply of homes available to be sold. That is a 'healthy' market; one where prices tend to remain reasonable, because buyers know another gem of a home is just around the corner, if they wait a short while.
Santa Clarita, and all of southern California has no such luck. As shown below, the supply of homes over the last 3 years has remained low after a particularly tough 2014.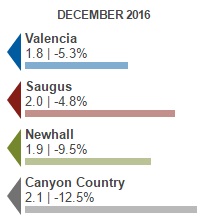 Valencia had a 2.5 month supply of homes in January 2014. By January 2015, it had dropped 24% to 1.9 months supply, and currently home inventory in Valencia has dropped to 1.8 months. That is a smaller drop of 5.3%.
The same story held true in the other 3 communities of Santa Clarita. Saugus has dropped from 2.7 months to 2.0 while Newhall and Canyon Country have taken slightly bigger hits in inventory in the past year.
In sheer numbers, Valencia active listings dropped from 215 homes on the market in December 2014 to 177 last month.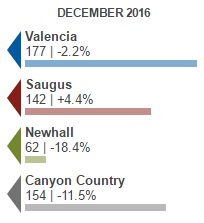 Newhall has taken the biggest hit over the past 3 years, dropping from 83 homes on the market in Dec. 2014, to 62 last month.
Over the last 3 months, inventory has been around 535 total homes on the market in Santa Clarita, down from 639 two years earlier. That's a drop of 17% across the valley.

WHY did this happen?
A great confluence of factors. Let's quickly point out what DIDN'T cause it. The Millennials.
The Millennials (born in years 1985 to 2002) finally decided to enter the housing market. The years of roommate living finally wore thin, and they are now the primary buyers, but they aren't the cause. Their student loan debt has really done a number on their ability to look like good credit risks to the banks, forcing them to remain on the sidelines.
What did? Back to the confluence of factors….
Corporate investors. After the 2008 housing crash, millions of homes made their way through the foreclosure process, and emerged as cheap, easy buys for investors. They promptly bought a huge majority of them, and turned these homes into RENTAL properties. Millions of homes that change owners as circumstances change suddenly remained in the same hands, year after year. It's been a decade since the crash, and investors are making massive profits on rental homes.
Baby boomers lost a lot of their nest eggs in that crash, and many are only just now reaching their savings goals. They are seeing that their home values have risen nicely, but so have the values on homes they hoped to move into. (They can't make the sideways move.) Liquid cash for down payments has been harder to come by in the last decade, forcing most boomers to stay put, instead of downsize into a property that is smaller but costs the same amount as their own home.
Builders sat on their hands until they were beyond positive that the recovery was strong enough to warrant new home building. They waited about 2 years too long, and made it worse by often not building what the market is screaming out for (cough single story homes, cough. baby boomers with bad knees, cough).
What will fix this? Loosening credit restrictions, continued economic growth in southern California, and attrition. We will literally need thousands of people to decide "the hell with it, I'm staying put." Builders will overbuild the heck out of Santa Clarita to the west and east and we will eventually have a housing glut. While interest rates are no longer at 3.25%, the graphic below spells out that the longer people wait, it doesn't improve their situation.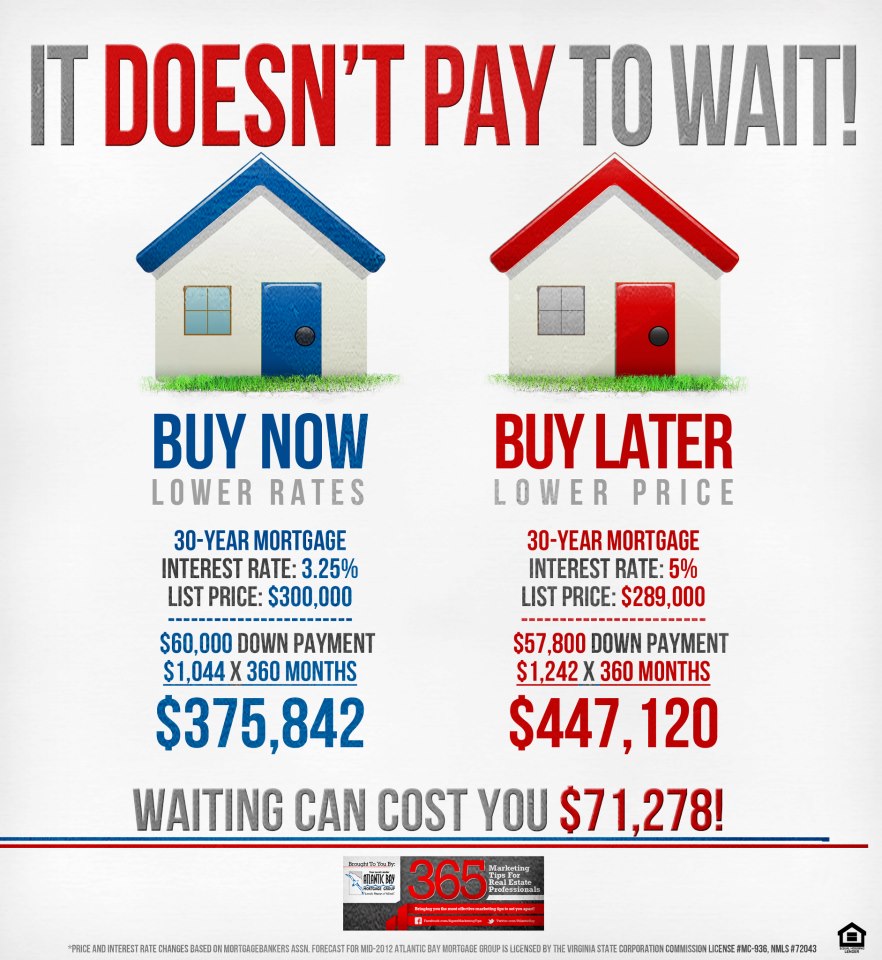 For now? There are great properties available, and winter time is the best time to sneak into the type of home you might've been outbid on last summer. I know a few clients who are doing just that. You should join them.